What exactly is lube?
Technically, a lubricant is any substance that helps reduce friction.
Lubricants are often used for things like bicycle chains and machines to help cut down on the friction caused by moving parts. Personal lubricants contain different ingredients, but the idea is the same -- they're used to reduce the friction on your own moving "parts" to make sex and masturbation easier and more enjoyable.
Sounds simple enough, right? But if that's all there is to it, why are there so many different kinds of lubes out there? It's because like condoms and vibrators, different lubes offer different benefits.
Let's begin with the bases: water, silicone, hybrid and oil lubes
Personal lubricants can come in liquid and gel forms, and each formula has a base ingredient that accounts for its unique texture. Let's take a look at the three main lube bases and what they mean for you:
1.) Water Based Lube
Water-based lubricants are by far the most common type of lube, and for good reason.
Because they're water-based, they're easy to clean up (and to wash out of clothing or sheets). And of course, since pure water is about the most natural ingredient out there, these lubes can also be very gentle and soothing to your skin.
Most of ASTROGLIDE's water based lubes can be used with condoms without compromising their integrity (meaning they won't cause condoms to rip or tear more easily). They can also be used with toys like vibrators -- even those made of silicone material.
Some Examples of Water Based Lube:
| | | | | | |
| --- | --- | --- | --- | --- | --- |
| | | | | | |
| ASTROGLIDE Liquid | ASTROGLIDE Gel | ASTROGLIDE Ultra Gentle Gel | ASTROGLIDE Natural Liquid | ASTROGLIDE Warming Liquid | ASTROGLIDE Strawberry Liquid |
2.) Silicone Based Lubricant
Silicone is a material made from alternate chains of silicone (a natural element) and oxygen atoms.
It can come in many forms including rubber, resin and oil -- those different forms make it great for everything from medical applications to insulation. Its liquid form is especially effective when used as the main ingredient in personal lubricants.
What makes silicone-based lubes so great?
For one, they have a very unique, silky feel that is soothing to the skin and leaves it feeling soft and smooth. Silicone is also hypoallergenic, so it's a great choice for lube users with sensitive skin or allergies. And since these lubes contain mostly silicone instead of water, they often last longer and need to be reapplied less often.
Like Astroglide's Diamond Silicone Gel, some silicone lubricants are also latex safe and generally toy safe, though you shouldn't use them in conjunction with silicone toys as they can break down the rubber over time.
The best thing about silicone based lubes? They're great for water play.
Unlike water based lubes that would be quickly washed away in the shower or tub, silicone lubes (especially when in gel form) stay put and keep friction at bay while you enjoy some slippery, wet fun.
Learn more about silicone lube here.
Some Examples of Silicone Based Lube:
| | |
| --- | --- |
| | |
| ASTROGLIDE X Silicone Liquid | ASTROGLIDE Diamond Silicone Gel |
3.) Hybrid Lubes
With a hybrid lube you get to enjoy the natural feeling of water based lubes while also getting the benefits of a longer lasting silicone formula.
There's no need to have one kind of lube for in the bedroom and another for water play -- a hybrid lube formula can pull double duty. Just remember that, like any lube that contains silicone, a hybrid lube can put some serious wear and tear on your silicone toys, so avoid using them together.
4.) Oil Based Lubes
If you're looking for a lube that is seriously long-lasting with a luxurious silky feel, an oil-based lube can be a great go-to.
Some people find that they prefer the sensation of an oil and oil-based lube is also great for giving massages. However, if you're thinking about using an oil-based lube, there are a couple of things you need to keep in mind.
The first is that oil-based lubricants aren't safe to use with latex condoms. They can make the latex porous, or even cause it to rip and tear. This means that oil-based lubes are better for those who do not need to use condoms. Another thing to consider is that oil-based lubes can also be hard to clean off of toys and skin, so be prepared to do some extra clean-up afterward.
Learn more in The Complete Guide to Oil-Based Lube.
An Example of Oil Based Lubes: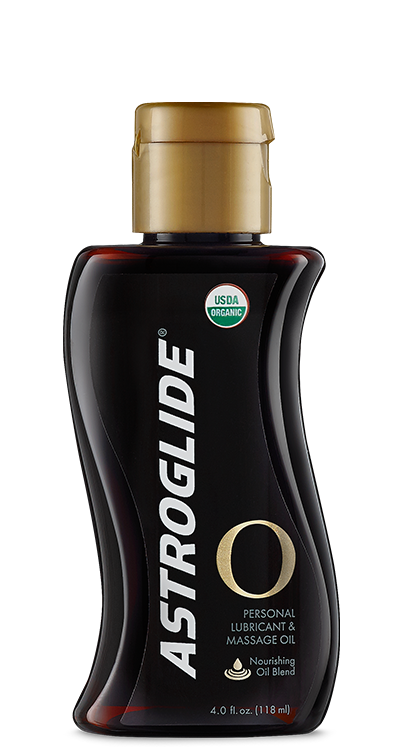 ASTROGLIDE O Oil Liquid
Which type of lube is best for you?
Now that you have a "base understanding" of different lube formulas, you can begin to get an idea of the lube that's best for you by deciding exactly what you'd like to use your lube for.
Lube for Solo Play
People of any gender who are looking to use lube for solo masturbation have plenty of lube options.
Water based, silicone based, or hybrid lubes can work well, as can liquids and gels. If you're relying solely on stimulating yourself with your hands, you may opt for a water based liquid lube like ASTROGLIDE Liquid. This lube is also best to use with toys of any type.
If you tend to really savour your alone time and enjoy longer masturbation sessions, a lube like ASTROGLIDE X might be a better choice, as you'll find yourself having to reapply less often. The best thing about using lube on your own is that you only have your preferences to consider, so you can take your time experimenting until you find the formula that's perfect for you!
Lube for Use With Condoms, Diaphragms and Dental Dams
If you're playing with a friend (or friends!) both water and silicone based lubes are good choices.
Most water- and silicone-based lubricants are latex safe (always make sure to check packaging for condom compatibility). Again, you'll definitely want to steer clear of oil based lubes, as these can erode latex and make your safe sex practices anything but. For a latex-friendly lube with natural ingredients and a soft, soothing feel, try sharing a bottle of ASTROGLIDE Naturally Derived with your partner.
Thinking of bringing toys into the bed with you, and need a toy-safe lube?
For toys coated in silicone gel or made with silicone resin, opt for a water based lube that won't cause the surface of your toys to break down. For toys made of other materials like glass or steel, both water based, silicone based, and hybrid lubes will all work wonders.
Lube for Playing in Water
Want to do more than frolic in the waves during your beach holiday?
Plan to christen your newly remodeled shower or make your hot tub even hotter? Believe it or not, using water alone for lubrication can actually increase friction and make things even less enjoyable for you and your partner. So if it's water play you're after, you'll definitely want to invest in a silicone based lube or a hybrid lube. Try ASTROGLIDE Diamond Gel first, as its thicker formula has more stay-put power -- definitely a plus during water play.
Lube for Those In Search of a New Adventure
Just looking to spice things up in the bedroom by trying something new?
You may enjoy using lubes with special benefits. ASTROGLIDE Warming, for example, produces a gentle warming sensation when it comes in contact with skin. This can increase blood flow and arousal, and can even help you and your partner relax and unwind.
Flavored lubes can also be a fun addition to your routine, especially if oral stimulation plays a major part in your lovemaking. Enjoy the soft, sweet taste of ASTROGLIDE Strawberry the next time you give your partner some oral love.
If you're feeling extra curious, check out these 10 great ways to enjoy the magic of lube, and 5 mind-blowing hand jobs you can only give with lube.
Ultra Gentle Lube
Are you prone to allergic reactions like hives or rashes, and need lube for sensitive skin?
Or have you experienced discomfort or burning when using lubes in the past? If so, you may want to use a personal lubricant that's especially formulated to be gentle.
ASTROGLIDE Ultra Gentle Gel and ASTROGLIDE Naturally Derived are both great choices. Not only are these lubes fragrance and coloring-free, they're also made from ingredients that have been tested and proven to provide comfort and enjoyment. If you're worried about having a bad reaction, try applying your new lube to a small section of your forearm to see how your skin reacts before moving on to more delicate areas.
Personal Lubricants Aren't Just for Sex
Although sex may be the first thing that springs to mind when you think of personal lubricants, they aren't for intercourse alone.
In fact, many women use lube to help ease the discomfort that comes from vaginal dryness. Vaginal dryness can occur any time, though it often becomes a problem for perimenopausal and menopausal women who are experiencing changes in their natural hormone levels.
Sound like an issue that's familiar to you? If so, speaking to your Medical Professional is always a great idea. She may have some suggestions or insights into your personal situation, and she may even be able to recommend a specific type of lube that's right for you.
If you want to strike out and experiment on your own, try a water-based gel like ASTROGLIDE Gel to start -- it'll be easy to wash out of fabric and its gel consistency will help it stay where you need it most.