Emphasis on ~ squeeze ~.
Before diving into the glory that is tight sex positions, let's get one thing straight: Your vagina is perfect the way it is, and it already feels great for your partner. The whole concept of vaginas being "loose" or "tight" is a myth. They're magical, elastic body parts that expand and contract through the many phases of life, and they will usually return to their normal size. But, if you want to explore what an even tighter sensation might do for both you and your partner during sex, or your vagina doesn't feel quite the same after childbirth, these tight sex positions can make the difference between meh sex and sex that makes your eyes roll back into your head.
"You might like extra pressure or friction against your lips, clitoris or internally," says Jess O'Reilly, PhD, resident sexologist at Astroglide. "If you're having sex with a penis, your partner may enjoy the sensation of a more snug fit." Remember, none of this is about anyone's size and is more about how you fit together, says O'Reilly. So the key is finding the right fit and angle for the best sensation possible. Here are some glorious tips to maximize that squeeze.
Use your fingers
"Ask your partner to add fingers while they are penetrating you," says Carmel Jones, a relationship expert who writes about sex, dating, and relationships at The Big Fling. You can also press a lubed finger across the bottom of your partner's shaft or encircle it with your thumb and finger as they penetrate. Instant tightness and magic extendo vagina!
Add some Kegels
"Doing Kegel exercises on your own can contribute to a tightness in the long run, but doing them during sex can help you clench your partner or your dildo during sex itself," says Jones.
Use pillows
"A positioning pillow, or even a repurposed regular pillow, is a great way to adjust the angle of penetration in different positions and create the feeling of a tighter fit," says Isabelle Uren, a certified sexpert and writer at Bedbible.com.
Throw a toy in there
Try a wearable, C-shaped vibrator designed to be worn during sex. "The internal part sits inside the body, delivering vibrations that can be enjoyed by both partners while also adding a little more fullness to the feeling of penetration. The other part sits outside the body, giving the wearer some extra clitoral stimulation," says Uren. (The We-Vibe Chorus is great for this.)
Two words: Butt plug
"A quick and easy way to create a fuller feeling inside the vagina is to wear a butt plug at the same time," saysEmma Hewitt, sex educator, host and producer of sex-positive podcast The Electric Rodeo, and sex toy expert at Adult Toy Mega Store. "The shared wall between the anus and the vagina is thin and including a plug can push against the vaginal canal creating more pressure." Physics in action!
Try this pulling trick
"Pull up on your pubic mound with your fingers. This stimulates the clitoris, provides extra pressure around the shaft of the penis and more sensation at the bottom of your lips near the fourchette, which can be a hot spot for many," says O'Reilly. (FWIW, I had to look up
fourchette
too.)
Once you've got those down, assume one (or all five) or these super tight feeling positions.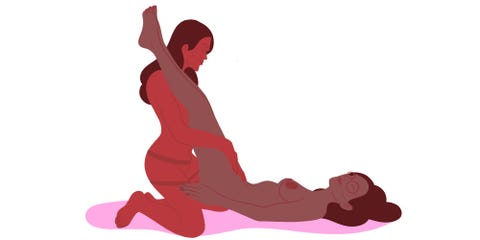 Be played like the fine instrument you are by lying back, pressing your legs together and lifting them as high up by your head as they'll go. The penetrating partner kneels before you (damn right) and holds your feet to one side. Cross your legs at the ankles if want/dare to go even tighter. And if you can't keep your legs straight, that's okay, you can bend them.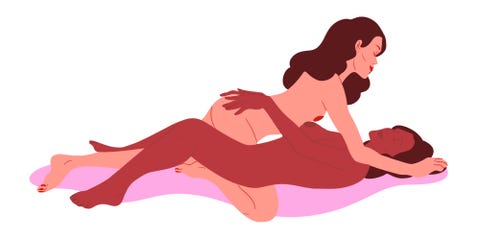 Flip missionary by getting on top and mounting your partner. They spread their legs for you, you slide your legs straight between them, holding yourself up with your hands. Roll your hips slowly for a rubbing motion, or thrust hard and deep if that's your thing. You'll feel like a baddie inside and out.
3
The Deep Tissue Massage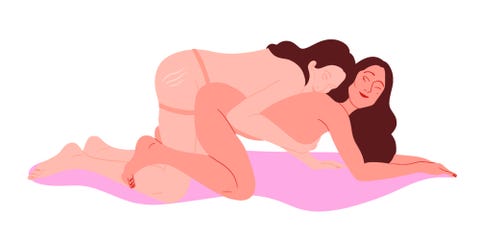 Indulge your massage fantasies by lying flat on your stomach opening your legs wide enough for your partner to slide in. Once situated, press your legs together while your partner puts their legs outside of yours pressing your knees together. If you want/need a little somethin' extra, press your fingers or a toy against your clit and rock against them.
SHOP NOW Lovehoney Magic Bullet 10 Function Bullet Vibrator, $17, Lovehoney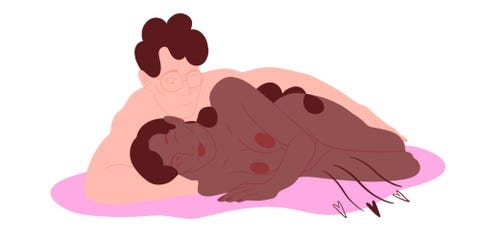 Make spooning feel even more tight n' cozy by keeping your bottom leg straight and sliding it between your partner's legs. Make a little cock ring with your thumb and finger (see above tip: use your fingers) at the entrance to your vagina. Not only is this deliciously snug and conducive to marathon sex, but it leaves you with a free hand to rub yourself as you please.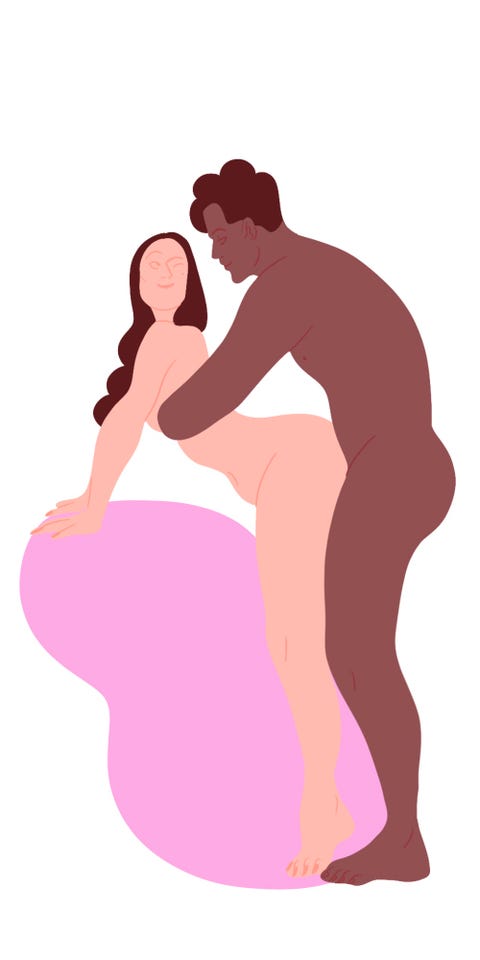 Mix and match a bunch of tightness tips in a downward doggy-style position. Put your hands on your bed and press your legs tightly together (a good leg squeeze works all kinds of vaginal magic). Arch your back and tilt your butt up for a fuller feeling. Amp it up by syncing some deep Kegel squeezes to match your partner's thrusts and you are officially a tightness queen.
Astroglide is available at Woolworths Supermarkets across Australia.
.
Astroglide is available at Chemist Warehouse online