Try something new and get yourself a glass sex toy, seriously. 🧊
We hope you love the products we recommend! All of them were independently selected by our editors. Just so you know, BuzzFeed may collect a share of sales or other compensation from the links on this page if you decide to shop from them. Oh, and FYI — prices are accurate and items in stock as of time of publication.
Why glass? Glass sex toys have several perks: temperature play, it is smooooooooth, and it offers a *full* feeling with a little bit of weight and a firmness that's hard to get with silicone. It's also durable, nonporous (aka body-safe), and easy to sanitize, so it will last for a long time.
Made from the least breakable glass on the planet, glass sex toys are hypoallergenic, nonporous, latex-, chemical- and phthalate-free. This means it's a perfect toy option for sensitive areas and bodies.
Many glass sex toys are created with boroscilate glass, which is contains a specific ingredient that makes it durable enough not to crack under extreme temperature changes and or if mishandled. And while this doesn't mean you can drop your glass sex toy from a second-story window or chuck it across the room, it does mean its fracture- and shock-resistant. (If your toy does chip or crack, do not use it! And also avoid toys that have thinly made elements or attached textures and designs that may break off during use.)
Of course, you should still handle your glass toys with care when it comes to use, cleaning and storage. And if you look after them properly, your toy should last a lifetime.
Curious about the two toys above? You can get the Trans Pride sparkle plug from Crystal Delights for $50 (pictured left) and the Joystick dildo from Gläs for $24.80 (pictured right).
1.
Use lube with your favourite glass toys to avoid friction. Fortunately, glass is a nonporous material so it can be used with literally *any* lubricant you like: water-based personal lubricant, hybrid, silicone based personal lubricant and even oil based personal lubricant!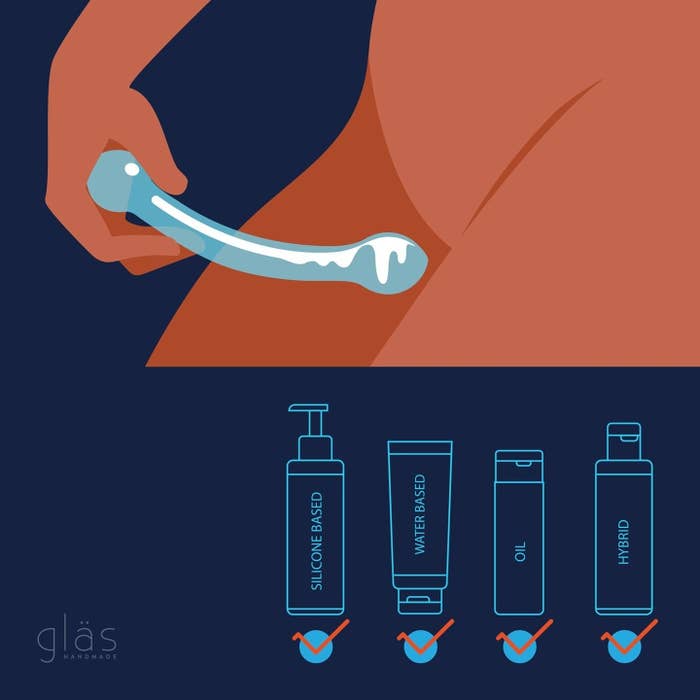 2.
Explore anal play with glass plugs and anal-safe dildos: besides being easy to sanitize (which is essential if you want to share with a partner), their smooth, tapered, durable designs can be a perfect introduction for people new to anal. Remember, lube is essential for anal play, so a silicone-based or hybrid lube would be perfect!
The durability of glass and the flared or tapered designs they are created with makes glass toys a great option for anal sex or masturbation. Here are a few well-reviewed anal-safe glass toys to explore!
A petite tapered plug ($29.99 on Lovehoney) boasting a flared base for effortless insertion and removal, which will deliver a full feeling to anal aficionados.
A floral butt plug ($22.60 on Amazon) with a flared rose-shaped base that takes the term "rosy cheeks" to a whole new level.
A 7-inch beaded anal slider ($27.95 on Adam & Eve or $26.31 on Amazon; pictured left) constructed with five beads that graduated from 1 inch wide at the tip to 1.5 inches wide at the base, so you can enjoy the feeling of fullness growing inside you.
Funfetti glass butt plug ($35 at Early to Bed; pictured right) because the booty deserves some bold and bright loving too.
A sleek glass plug with a T-shaped base ($44.95 on Crystal Delights) for comfortable gripping and control, not to mention a beginner-friendly bulb that's 1.3 inches wide.
3.
Prepare to use larger toys during anal play — or graduate from toys to anal sex — with the help of anal dilators and graduated plugs. They're simple ways to ease your body into enjoying something larger.