Astroglide Naturally Derived Personal Lubricant
NATURAL PERSONAL LUBRICANT
Astroglide
Naturally Derived Personal Lubricant
combines natural plant extracts like Aloe Vera and Chamomile to create the same long-lasting, natural feel, never sticky, second only to nature feeling that you've come to expect from Astroglide. It is
made with natural / organically derived ingredients. It is Glycerin Free and Paraben Free. Only a few drops are needed, so it is more economical. It is also a vaginal moisturiser.
Experience love with a little help from soothing nature derived ingredients: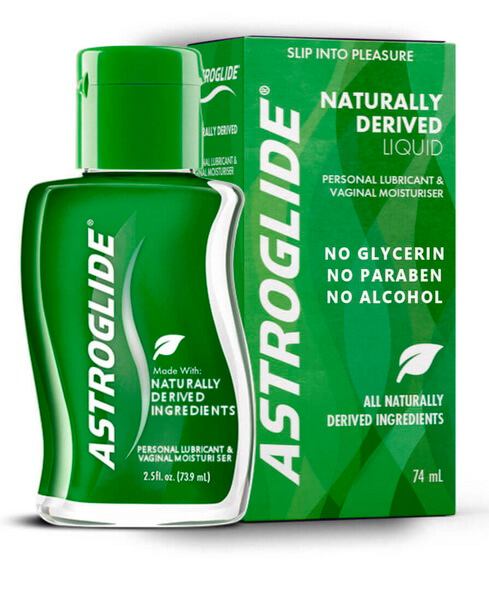 Xylitol -
Corn cob-derived xylitol is a natural derived vaginal moisturiser, sugar-free humectant known for its ability to retain and absorb moisture
, Aloe Vera,
Vitamins C & E,
soothing
Chamomile Flower Extracts
Great for vaginal dryness / menopause dryness.
Astroglide Naturally Derived is:
Alcohol Free
Paraben Free
Fragrance Free
Grapefruit (Citris) Seed Extract Free
Petroleum Free
Flavourings Free
Potassium Sorbate Free
Hormone Free
Sodium Citrate Free
Carbomer Free
Enhance the pleasure for you and the ones you love to love - Naturally:
Water-based
Water-soluble
Natural Rubber Latex condom safe and Polyisoprene Condom safe
Soft & Smooth
Natural Feel
Long Lasting
Economical
Aloe Vera
Chamomile Flower Extracts
Astroglide Naturally Derived only Contains natural / organically derived

ingredients namely:
Purified water, Xylitol (from spine of corn cob - derived xylitol is a naturally derived, sugar-free humectant known to help retain and absorb moisture), hydroxyethylcellulose (made from plants), pectin (from fruit), Barbadensis Leaf Juice / Aloe Vera , Vitamins C & E
from natural extracts, Lactic Acid, Chamomile (Anthemis) Flower Extracts , Phenoxyethanol (organic compound). It is the best lubricant for vaginal intercourse for people with sensitive skin or sensitive to chemicals as it is
made with natural and organic derived ingredients with no synthetic and no artificial ingredients. It is also GMO Free and Vegan friendly.
Astroglide
Naturally Derived
is widely recommended. Best lubricant in our range for women. Sold in over 1000 Woolworths Supermarkets & Woolworths Metro's, selected Health Food Shops and Chemists and is also popular with Vegetarians and Vegans. It is also popular with people with sensitive skin, menopause and who experience related vaginal conditions. Vegan approved, not tested on animals.
It is also used for pap smear / cervical examinations
as they prefer a non sticky lubricant that does not inconvenience or stick to

speculums.
Astroglide
Natural Personal Lubricant
is the perfect choice for those who may be sensitive, or allergic to glycerin and parabens. Help keep love fun, the way it should be, by guarding against irritation and burning caused to some people sensitive to glycerin and parabens. As with all Astroglide water based products, it is water based, water soluble, a moisturiser and will enhance the pleasure for you and the ones you love to love. It is also popular personal and vaginal lubricant with people with super sensitive skin or sensitivities to chemicals and those experiencing dryness through menopause. It has been specifically created based on gynaecological research to supplement your natural lubrication.
This product is also an approved lubricant by
Hologic
, who produce the
ThinPrep Pap Smear
test specimen kits globally, as it is carbomer free. Carbomers can compromise the cytology specimen taken. More details
here

Available at over 1000 or 94% of
Woolworths
Supermarkets / Woolworths Metro's in every State and Territory,
full list of stores here or from our
Ways to Buy Page