Request Free SampleS
Try ASTROGLIDE personal lubricant & vaginal moisturiser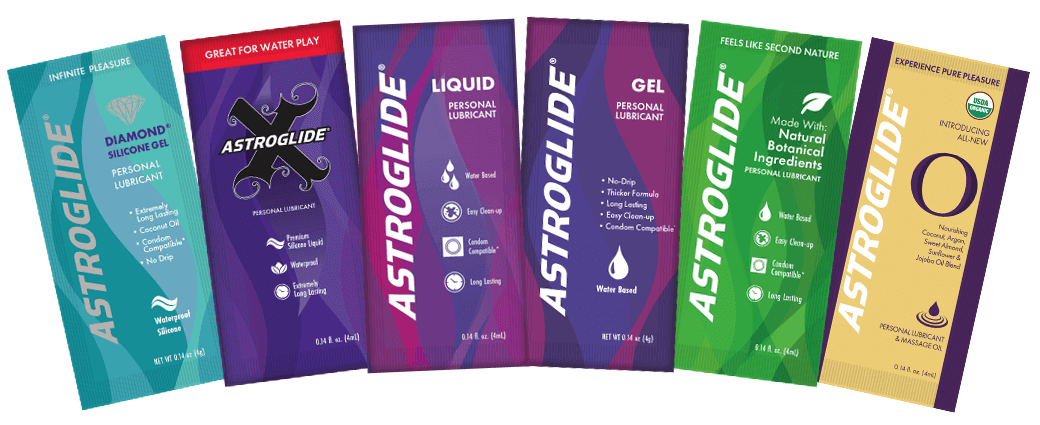 We stand by our product and we encourage you to try free samples
AUSTRALIA ONLY

AUSTRALIA ONLY
Please send a $1

stamped self addressed DL sized envelope

to

Sample Request
Astroglide Pty Ltd
PO Box 603
Mosman NSW 2088
Two

4ml free sample of ASTROGLIDE Naturally Derived Personal Lubricant (water based)

Two

4ml free sample of ASTROGLIDE Regular Personal Lubricant or GEL and (water based)

One

4ml free sample of ASTROGLIDE Certified Organic Oil Personal Lubricant
If you like, drop a note in the envelope and let us know, how you found us and what Astroglide personal lubricants most interest you, so we can match the samples to your needs.
The samples are provided by Astroglide Pty Ltd the sponsor of Astroglide in Australia. Samples are promptly sent to you either same day of receipt of your envelope or within two days, depending on volumes received that day.
We also supply free sample sachets to Healthcare Professionals, please
contact us by phone or email
for access to our secure Doctor's, Oncology, Gynaecology
and Healthcare Professionals page on this website and access to bulk samples.
We sent out over 230,000 sample sachets in 2018. Over 1.7 million sachets have been sent out since 2008.
Astroglide Personal Lubricants are Vegan and always have been since we started over 40 years ago . #vegan #veganfriendly